Dear 2020 me,
We need to talk because there are some things you need to know.
Around this time last year, we welcomed 2019 with a set of highly ambitious list of life goals.
But life had other plans.
I learned many things in 2019.
Some things made me be a better human.
Some things challenged my personal views, values and beliefs.
Some things I had to fight through.
Some things were just at best, messy.
Yes, 2019 could very well be summed up as "not your greatest work."
We made some poor life choices.
We trusted the wrong people.
We tried to be open, vulnerable and 'real' by sharing our life and experiences with others who turned out to be toxic (not to mention shady AF).
But hey, it wasn't all a complete dumpster fire! We did some pretty cool stuff!
Reached lifetime at WW and started working as a coach!
Went to vidcon, got inspired and met amazing people.
You kept a tiny human alive, happy and healthy for three years!
So, 2020 me, things are looking up but here are six things I need you to know.
1. Do something creative everyday and take bigger risks.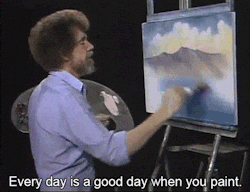 Aside from the fact it's basically like breathing, when we are creative, we are able to make sense of our world and our place within. Whether it's blogging, live streaming, filming or performing, listen to the calling. Establish a daily practice, do the work and commit.
2. Get comfortable in being disliked.
Repeat as necessary. Repeat louder if needed. As much as we live in a world that values vulnerability, authenticity, and creativity, there is a dark side to this. The more you put in to the world, the more you put yourself at risk for getting hurt. But don't ever stop being you. Be respectful. Be grateful. Check your privilege. But don't play small or dismiss what you want in life to appease others. Stop fighting losing battles with your critics. Instead, love them, learn from them and keep moving forward.
3. Listen louder.
You are constantly surrounded by people, online and in your day to day life. It's time to connect with them in a more meaningful way. When we engage, be real. Stop waiting for a chance or pause so you can speak. Take each moment to truly listen to understand others. Not everything said needs a response. Yes. We like to talk. Yes, we overshare. Of course, we have mega important things to say. But before you say them, get out of your head, pay attention to the person who's speaking and listen intently.
4. Ask good questions.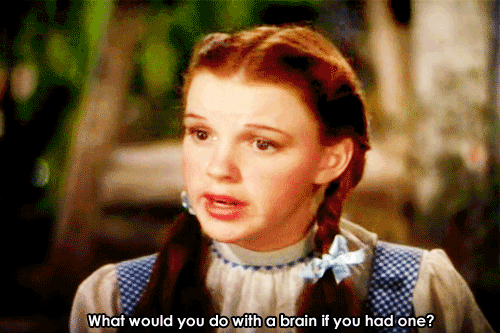 Look, it's time to forgive Mrs. R, our grade 2 Hebrew teacher who admonished us for asking too many questions (name of private religious school shall not be named). There is so much to uncover in this world. All questions, big and small, are an invitation for change, growth and innovation. When we ask questions, we are nourishing our curiosity, allowing ourselves to make sense of our world and be open to collaboration.
5. Embrace your shitty ideas.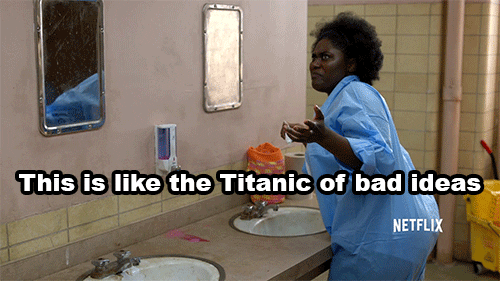 You won't know if they're shitty unless you ACTUALLY PUT THEM OUT THERE. We are standing on the edge and it's time to swallow the fear, take the leap and get ready to fuck up. A lot. But this will help us grow. Growing is good. And very, very important.
6. Kiss goodbye the lies that are stuck on repeat in your mind.


Lie #1: "Sticks and stones may break your bones and names will never hurt me".
All your young life you were taught to accept what people said about you the good, the bad and the dehumanizing. What we're learning, is that words unfortunately, cut deeper, and stay with us much longer than any physical wound (thanks therapy). And while we can't change the past, we can continue to advocate for ourselves and for others when faced with wrong doing.
Lie #2: "Do unto others as you would have them do unto you."
AKA THE Golden Rule.  Continue to do unto others. But be conscious of how much of yourself you give to people. This past year, we've had some unrealistic expectations of people and as a result, we faced some major disappointments. Continue to treat everyone you meet with kindness, compassion and respect. But know when to draw lines in the sand. Creating healthy boundaries allows self-preservation.
So there you have it. 2020 me, you are looking very bright indeed. You have exciting projects on the horizon, you are surrounded by people who love you unconditionally, but most importantly? You are able to look inwards, own your shit and try to be better every time.
And if those moments of self-doubt creep in, come back to this list and we will start again.
Sincerely,
2019 Me.
*** Please follow along with my journey in the New Year. All the latest updates will be on my Instagram! ***